First up, a short geography lesson! For as much as I love to travel, I have always been terrible at geography (and history for that matter). I swear I must've somehow slept through those classes. No worries- I'm catching up now! Provence is short form for the entire region of Provence-Alpes-Côte d'Azur. It is a really large region in Southeastern France that extends from the Rhone River in the West to the Italian border in the East. It is bordered by the Mediterranean Sea in the South and the French Alps in the North.
Within Provence-Alpes-Côte d'Azur are the two destinations of the second and third legs of our trip: Provence & the Côte d'Azur. Often when people mention Provence, they are referring to the Luberon. The Luberon is in central Provence and is composed of three mountain ranges. This is the area that has become famous for its countryside of vineyards, orchards, and "perched" hill-top villages. The Luberon villages are the part of Provence that I wanted to spend our 3 days exploring!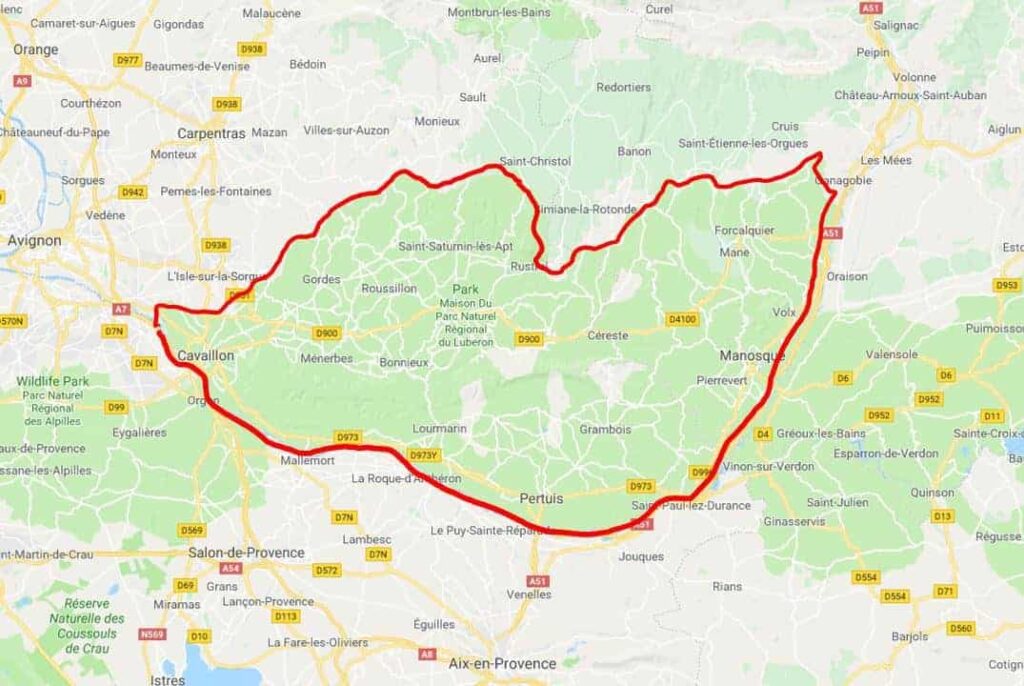 Day 1– Transportation
Early Monday morning we took a high-speed TGV train from Paris to Avignon. We traveled up to 300 km an hour and what would've taken us 7.5 hours by car took us under 2 hours and 45 minutes by TGV! When we arrived, we picked up our rental car right outside of the train station.
We headed straight for Pernes-les-Fontaines because it was 10 minutes from our next stop and I really wanted to check out the concept store La Maison Pernoise. It did not disappoint and I came home with a beautiful black teak bowl I'll always treasure!
Isle Sur La Sorgue
Filled with unreal, crystal-clear green streams and canals, L'Isle-sur-la-Sorgue is 'the island on the Sorgue' because the town is surrounded by the river. Many refer to the town as the "Venice of France". It's also known for its antiquaires (antique shops) and numerous water wheels and footbridges that take you over the water. We had lunch on the patio at Le Jardin du Quai where we tried monkfish! Josh loved it. I was not a fan. Ha!
The source of the river Sorgue is in nearby Fontaine de Vaucluse. The spring feeding the river comes from deep underground and is always 55 degrees F. Nobody really knows how deep- Jacques Cousteau couldn't even find the bottom!
Uzes
Uzes felt like a hidden town. The buildings are all made of white limestone. Since the town is a car-free zone, everyone walks everywhere and it's wonderful. We saw Tour Fenestrelle, a bell tower attached to church of St-Théodorit.
15 minutes outside of Uzes we explored Pont du Gard. It's what remains of an ancient Roman aqueduct bridge built in the first century AD to carry water over 50km (31 mi) to the Roman colony of Nemausus. It was incredibly impressive!
Saint Remy de Provence
Our hotel for our 3 nights in Provence was Le Saint Remy in Saint Remy de Provence. Both the hotel and grounds are gorgeous. The rooms are described as casual gypsy chic and I agree completely. We got unpacked and freshened up for dinner outside at the hotel.
Day 2
Early the next morning we headed out on the longest drive of our trip as we made our way east across Provence to Gordes, Moustiers Sainte Marie, and the Gorges du Verdon. The two and a half hour drive was definitely worth it!
This is probably a good time to say that while they drive on the same side of the road as us in the US, driving in France is not without its challenges. The tolls and roundabouts are plentiful. Many of the streets are narrow and don't appear to fit one car very easily, let alone accommodate two going opposite directions. And to find a straight road is an anomaly. Also, always find the town parking lot upon entering a new town. Just trust me- this is your best bet for parking! Sometimes they're free, but often you park and pay a few euros at an automated parking meter somewhere within the lot.
Gordes
Gordes is arguably the most popular village in the Luberon and it was easily one of my favorites! It has officially been named one of The Most Beautiful Villages in France. It's a compact hilltop town at the foot of the Vaucluse Mountains. Most of the villages in the Luberon have a Market Day. We were lucky enough to be there for Gordes' Market Day so we headed there first. This is where I learned how to use an ATM in France as I ran out of euros and some vendors don't take cards! When we arrived many vendors were still setting up and it was quiet, but when we left 2 hours later the streets were full of vendors AND tourists.
On our way to the next town, we came upon the most beautiful stretch of lavender fields that had yet to be harvested. Like many others, we pulled over on the side of the road to take a closer look!
Moustiers-Sainte-Marie
You drive through the stunning village of Moustiers Sainte Marie on your way to the Gorges du Verdon. It is seriously straight out of a storybook and is easily in my top three towns we visited in Provence! The village was built on platform terraces a hundred or so meters up the side of a limestone cliff. Above the town, a gold-painted star hangs on a chain suspended between two cliffs. According to the legend, in the 10th century during the Crusades, the knight Bozon de Blacas was held prisoner by the Saracens. He vowed to hang a star over his village if he was able to return. No one knows how the star was originally hung, but it's been replaced several times since then, most recently by helicopter. We had lunch in town at Les Tables du Cloitre. Our cheese and charcuterie boards, local beers and Coke were delicious!
Gorges du Verdon
Gorges du Verdon is the deepest gorge in France and is one of the must-see natural wonders of central Provence. It's a river canyon believed to have been formed during the Jurassic period. The cold water is a beautiful turquoise color. There is no road up the gorge, but you can road trip around the rim, hike in and out of the gorge, or go out on the water in the lower end. We chose to go out on the water! You can rent a canoe, pedal boat or kayak, but each is limited. We parked at Pont du Galetas, stood in line, and booked a pedal boat for 2 hours for 40 euros and we were off! *As a sidenote- I'm not the greatest swimmer and knowing that the gorge is up to half a mile deep, I wanted a nice, balanced, safe pedal boat. Josh wanted a kayak. He said we weren't senior citizens and promised I wouldn't drown. Fortunately, when we got there he saw there were tons of people our age in pedal boats and I won. I'm just glad the outing didn't end as a future Dateline episode. Put this on your bucket list immediately.
We made our way back to our hotel to freshen up, then dinner was outside in Saint Remy de Provence on the gorgeous terrace of Le Moulin de Sophie. After, we walked back to the hotel for drinks and dessert.
Day 3
Before heading back to Gordes for breakfast, we made our way to Maubec for our Covid PCR tests. We were second in line. We showed our passports and they entered our info. Tests were free!! Then we went into a second tent for the nasal swab. They went up SO much further than either of us had experienced back home, and did BOTH sides. It was uncomfortable, but a small price to pay to be able to travel.
Gordes
Breakfast was back in Gordes on the terrace at La Bastide de Gordes. This is a beautiful hotel, but anyone can make reservations to eat there. The breakfast was a huge buffet with made to order crepes and eggs. I are my crepes with berry and fig preserves, then we drove to the town viewpoint.
Just outside of Gordes is the Senanque Abbey with its gorgeous lavender fields. You've likely seen this image on puzzles. It was built in the 12th century for Cistercian monks, who still live there as it still functions as a monastery.
Roussilon
Walking into Roussilon felt like entering another world. The town is literally orange, red, yellow, and pink. The ochre the land is made of is a natural pigment that was used in paints and came from the ochre quarry that was once one of the most significant ochre deposits in the world. The town hall square looks like it belongs on a postcard. We walked the 30 minute Ochre Trail. It was hot so we ruled out the hour long trail!
Menerbes
You'll know when you're near Menerbes because there is a sea of cherry trees and vineyards below the village. This town was full of beautiful arches and landscaping. Lunch was at Chez Auzet.
Bonnieux
A spiral of cobbled streets wind their way up to the medieval 12th century church Vieille Eglise that sits at the highest point in the village. After getting a view of the town, we headed to Chateau la Canorgue for wine tasting. This is the winery from the movie "A Good Year." We left with a red and a rosé! I can't wait to pop them open when I'm missing Provence.
Lourmarin
Lourmarin isn't one of the perched, hill-top villages of Provence, but it was still gorgeous. The café culture is huge here and many near the center of the village spill out onto the cobbled streets with tables everywhere! There's also an impressive belfry that's part of a medieval castle at the highest point of the village. Dinner was at L'Insolite.
For years when I dreamed of visiting France, Paris was all I thought about. 13 villages later, I can honestly say what a shame it would've been to miss this charming, magical part of the country!
BEST BITES
La Bastide de Gordes (Gordes)
Les Tables du Cloitres (Moustiers Sainte Marie)
HIT LIST
Gordes (especially on Market Day!)
Gorges du Verdon
If France interests you, I was a podcast guest on Join Us In France and hope you'll give it a listen on your next commute or laundry day! You can follow the link below, or use a podcast app on your device: just search for the "Join Us In France" podcast. https://joinusinfrance.com/episode/anniversary-in-paris-and-provence/
Curious what I packed for France? Read about it here.
Read my Paris City Guide here!
And find our French Riviera Road Trip details here!